Extend physical security to the rack level
The server rack is the final point of data vulnerability in the data center, it makes sense to consider implementing the same level of sophisticated physical security and access control monitoring already established at every other level of entry in the data center.
ScanViS Rack Access System offers a modular security solution for simple integration into Data Center Infrastructure Management (DCIM) systems and existing server rack enclosure designs. The solution embraces ScanViS GateGuard PRO access control device, wireless rack lock, and a central management system (CMS), giving an agile yet efficient rack level access control system to meet the rigorous requirements of physical security for data centers nowadays.
The key element of the Rack Access System is the use of a wireless rack lock that restricts access through the validation of user credentials. By verifying the user's identity with multi-factor authentication through facial recognition, QR code, passcode, or tap card from GateGuard PRO, access authorization will be confirmed by the CMS to unlock the designated wireless rack lock installed on the server rack/cabinet door. It is centrally monitored 24/7 in real-time through connected management software, and the system is scalable for any sized organization, configured for any specific requirements, with all important audit trail reporting.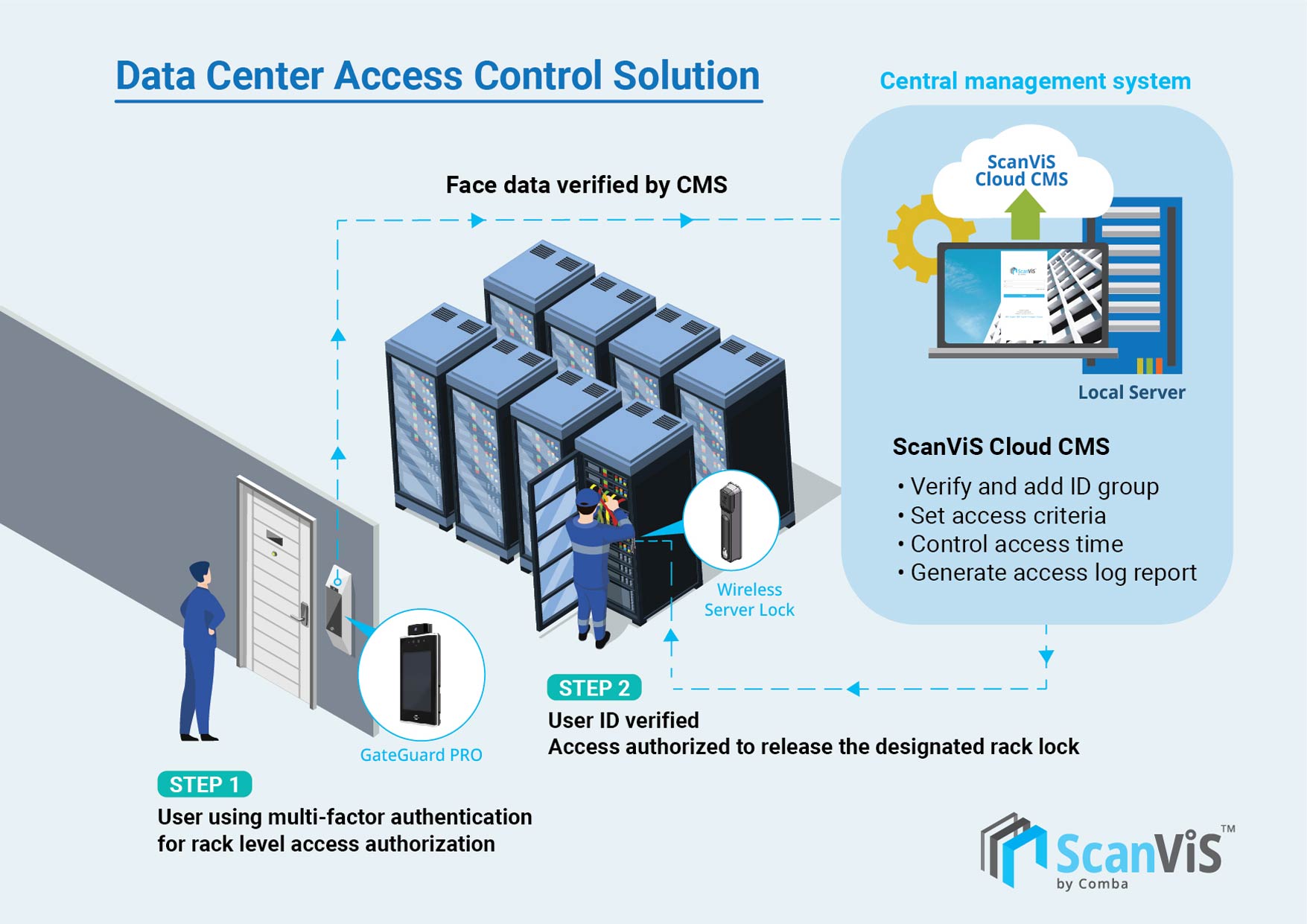 ScanViS wireless rack lock requires no additional cabling or power and is easy to install. It can be retrofitted to server cabinets and integrated with the DCIM or other rack level security system to leverage the existing hardware, software, and network connections, and can minimize the cost per rack. This solution enables data center managers to automate the check-in process for authorized engineers, technicians, IT/data specialists, and site operation managers, enhancing both operational and cost efficiency for the data center operator.
Upgrade physical security in the server room
When it comes to server room security, integrated access control and monitoring system is necessary. ScanViS Rack Access System is not only capable of protecting an unlimited number of racks/cabinets but also able to work with ScanViS GateGuard access control solution or ScanViS thermal detection series to further enhance the security level and ensure the health safety in the colocation facilities or multi-tenant sites.

Combining the use of ScanViS Rack Access System and either with GateGuard access control solution or ScanViS thermal detection series can upgrade the security level starting from the spot of floor entrance or server room door to rack level access. This implementation is taking one step further to protect the server room environment against physical attacks from intruders and diseases spreading by fevered users.

Using ScanViS Rack Access System to secure the server racks is the final component in creating a fully secure data center. Rack level access provides a controlled physical security solution that, when integrated into ScanViS GateGuard Access Control solution, enables a complete end-to-end data center security solution.

Benefits
Secure unlimited number of racks
Access authorization by multi-factor authentication of the user
Real-time alerts on malicious physical attack from intruders
Easy staff attendance/ visitor management
Provide a full audit trail of all users
Key override feature
Remote access permission
Applications
Data Centers- server cabinets and racks
Healthcare- medicine and drug cabinets
Laboratories- refrigerated storage
Financial- secure storage of confidential documents
Education- secure storage of sensitive documents
Government- secure storage of sensitive and classified documents
Industry- storage of hazardous material
 Customer speaks for us