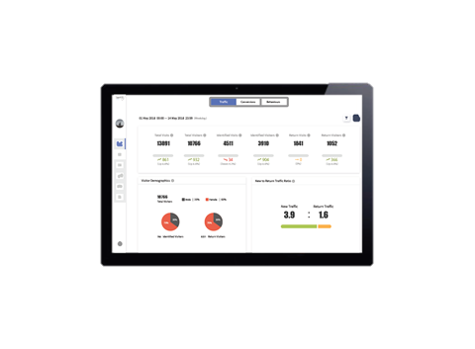 Plan your shop with actionable customer analytics
ScanViS Analyze is a facial recognition analytic management platform that helps accurately identify your customer/ visitor from a camera and quickly search hundreds of faces per second in a dataset of millions of faces, impressive customer analytics techniques can come to offline word.
The system detects individual faces, extracts attributes and matches the face with a database of registered faces. It also supports multiple cameras for tracking of the same customer across different cameras at different store locations without double counting.
It is a management platform that provides a customized user-friendly dashboard and allows business/ marketing leaders to see vital data and to identify the key outcomes in various marketing efforts. The high algorithm efficiency of Analyze means less hardware is required, saving budget and allowing investment in other business areas.
To create refined buyer profile, Analyze can work with Display for in-depth customer analytics to deliver personalized promotions and win your customer by retargeting.

What industry uses ScanViS Analyze?
Application