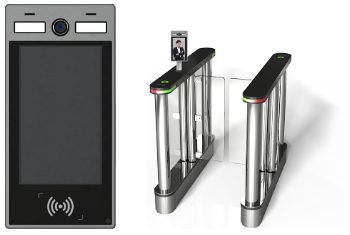 All-in-one facial recognition device for access control in enterprises or organizations
GateGuard is a 7-inch, all-in-one facial recognition device with a cloud computing platform to run ID management and perform real-time access monitoring of offices and buildings at the point of entry. The user-friendly web dashboard enables multi-device central management, instant access log update, data visualization and analytics functions by simply one click.
Other than 30,000 face databases, the device houses a touch screen with card reader providing flexibility for organization which needs two-factor authentication or as an optional method to work with the traditional system. Besides identifying user's face within 2 meters in less than 1 second, GateGuard can also personalize greeting message on the display screen when the registered visitor is authorized to entry. This function gives a good visitor experience when a VIP checks in the company or a building.
Liveness detection and watch list compilation (white/ black list) are featured to enhance security. With real-time push alert, office admins or security personnel will be notified of unauthorized visitor or identity fraud on the mobile APP.

Easy Installation
Wall mount device controlling door access at office entrance.
Pole mount device for gate integration at the building lobby.
Which industries use GateGuard?