Accelerating Smart Mobility: ScanViS Collaborates with SmarTone Solutions to Deploy Cutting-Edge AI-Driven Transport Innovations
14 November 2023, Hong Kong - Comba Telecom Systems Holdings Limited ("Comba Telecom", SEHK stock code: 2342 and SGX stock code: STC) and its subsidiary, ScanViS Limited ("ScanViS"), are pleased to announce the successful deployment of Smart Transport Solutions in collaboration with SmarTone Solutions, the enterprise solutions arm of Hong Kong's leading mobile operator, SmarTone Telecommunications Holdings Limited ("SmarTone", SEHK stock code: 0315), for Hong Kong's largest franchised bus operator. This innovative solution, powered by AI and 5G technology, aims to enhance passenger experience, improve safety, and boost operational efficiency for the bus company. The collaboration ushers in a new era of smart travel, to revolutionize the commuting experience and convenience for thousands of buses operated by the company. With the implementation of Real-time Bus Capacity Analysis, over 2,300 buses have undergone transformative changes, significantly impacting the transportation industry.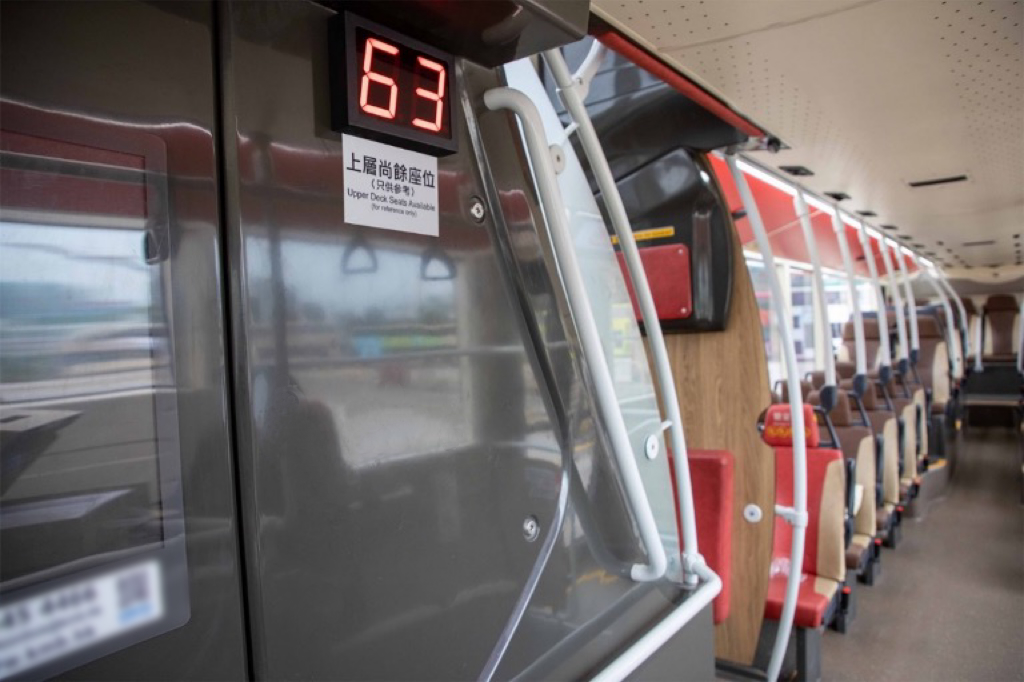 Leveraging advanced computer vision and data analytics, ScanViS has developed an innovative AI solution with SmarTone Solutions that provides passengers with precise, real-time information on bus occupancy and queue status. The solution collects live data on passenger boarding and alighting, which is transmitted to the cloud via SmarTone's 5G network for real-time analysis of bus occupancy. Passengers 2 can conveniently access this information via the bus company's mobile application, enabling them to make informed travel decisions based on visual representations of approximate bus occupancy. Additionally, the AI solution offers up-to-date statistics on seat availability on the upper deck to passengers aboard, minimizing unnecessary movement between decks and improving the satisfaction of the riding experience.
The AI solution accurately tracks passenger flow, enabling the bus company to optimize services, allocate resources efficiently, and mitigate overcrowding. Valuable insights into passenger count, usage patterns, peak hours, and popular routes inform service planning, infrastructure design, and targeted marketing strategies, leading to continual improvements in the transportation system.
Furthermore, the AI solution enhances passenger safety by monitoring crowd density in stations, terminals, and vehicles. It facilitates effective congestion management and enables proactive measures to prevent compromising safety situations. The inclusion of on-bus upper deck occupancy displays minimizes unnecessary passenger movement between decks, ensuring a secure and comfortable travel experience.
"Leveraging the comprehensive SmarTone 5G network and cutting-edge solutions, we aim to bring convenience to Hong Kong citizens in their daily lives," said Mr. Daniel Leung, Head of Business Markets at SmarTone. "By combining 5G, AI and machine learning, we provide accurate and real-time data to enhance the bus operator's efficiency, creating the first 5G bus in Hong Kong, delivering a seamless and satisfactory riding experience for millions of passengers in the city."
Ms. Marie Ma, General Manager of ScanViS, highlighted the exceptional capabilities of ScanViS in delivering advanced technological solutions swiftly. She stated, "In this innovative project, ScanViS has demonstrated exceptional creativity and expertise, delivering advanced technological solutions efficiently. Our team's dedication and commitment have played a pivotal role in revolutionizing the commuting experience and convenience for thousands of buses operated by the company."
As ScanViS and SmarTone Solutions continue to push the boundaries of technological innovation, their shared commitment remains steadfast in delivering superior service and enhancing the overall experience for the city's residents and visitors.
About Comba Telecom Systems Holdings Limited 
Comba Telecom is a global leading wireless solutions provider with its own R&D facilities, manufacturing base, and sales and service teams. The Group offers a comprehensive suite of products and services including base station antennas and subsystems, wireless access, wireless enhancement, and wireless transmission to its global customers. Headquartered in Hong Kong, with advanced manufacturing and R&D capabilities, Comba Telecom provides wireless communication solutions and information application services to customers in more than 100 countries and regions around the world. The Group has been included in the Hang Seng Composite SmallCap Index and Hang Seng Composite Industry Index - Information Technology. In Jan 2023, Comba Telecom successfully listed on the Mainboard of the Singapore Exchange Securities Trading Limited by way of an introduction under the stock code "STC".
For further information, please visit: www.comba-telecom.com
About ScanViS Limited
ScanViS, a subsidiary of Comba Telecom Systems Holdings, is a renowned provider of cutting-edge technology solutions. The company has a proven track record of delivering outstanding results. With notable expertise in artificial intelligence (AI), ScanViS has achieved remarkable success through its deployment of AI Control Systems for the prestigious Mobile World Congress (MWC) from 2019 to 2023 and the renowned Hong Kong Large-Scale Jewellery Show in 2023. Furthermore, ScanViS has extended its AI solutions to numerous projects across Europe and South America, solidifying its reputation as a global leader in AI technology.
For project details and more information, please visit: www.scanvis-ai.com
For media inquiries, please feel free to contact:
Corporate Marketing Department of Comba Telecom 
Miya Lin
Marketing Manager
This email address is being protected from spambots. You need JavaScript enabled to view it.
LBS Communications Consulting Limited
Joanne Chan / Fish Lam
Tel: (852) 3679 3671 / (852) 3752 2677
Fax: (852) 3753 2899
E-mail: This email address is being protected from spambots. You need JavaScript enabled to view it. / This email address is being protected from spambots. You need JavaScript enabled to view it.