Security is the core to the success of data centers. Both physical and cybersecurity measures should be considered and implemented to form interlocking protection. The deployment of Edge Data Centers (EDC) and enhancement of cloud-based video analytics contributed to the growth of the data center physical security market, with market revenue expected to grow at a CAGR of 4% from 2020 to 2025. [1]
To prepare for the post-pandemic era, 70% of IT managers agreed that the "new normal" has increased the urgency for organizations to adopt ACaaS (Access Control as a Service) and/or VSaaS (Video Surveillance as a Service). [2]
Access Control as a Service (ACaaS)
ACaaS leverages on-premises access control devices with cloud computing systems. It allows flexible, scalable management with all access logs stored at remote servers. With a central management system, users can monitor entry points of multiple locations and automate attendance recording. 
With ACaaS, end-users no longer need internal IT departments to build up and maintain the servers and infrastructure at the business facility, which incurs more upfront Capital Expenditure (CAPEX). With cloud-based solutions, onsite servers and appliances can be eliminated to reduce the total cost of ownership while not losing any functionality.
Video Surveillance as a Service (VSaaS)
Video surveillance systems control multiple sources of video subsystems in a facility to collect, manage and present video clearly and concisely. Through VSaaS, users have a one-stop solution for end-to-end implementation of video surveillance solutions with options to retain information in central cloud storage.
VSaaS can offer a unique public, private, or hybrid cloud environment with real-time management and monitoring capabilities, built-in analytics, cloud-based economic models, and deployments verified at scale in multinational or enterprise companies around the world. Thanks to its increased flexibility and reduction in running cost, the market for network-based video security systems is growing globally year by year. 
IoT-enabled physical security features for data centers
Dealing with data breach threats, data centers need a holistic security solution to protect corporate data from perimeter to server racks. With cloud-based ACaaS and VCaaS solutions, security measures will be carried out in a more efficient way to keep data assets safer.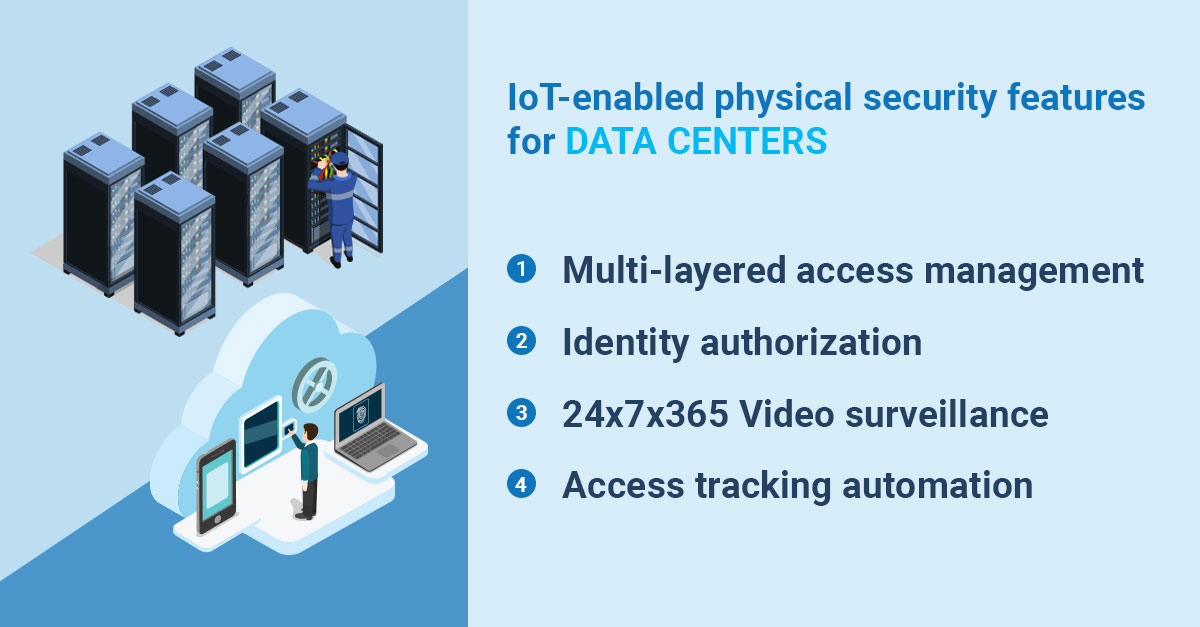 1. 
Multi-layered access management
Since access to data centers is restricted to people within the organization that can be admitted to work with particular servers and hardware, access control management needs to be clear and efficient across various zones.
Rack-level security could be improved with network-enabled server locks. By segmenting access for various levels of users, server locks can be opened for specific sets of time by specific personnel.
The backend system of ACaaS requires up-to-date access lists to ensure which user has legitimate needs to reach server racks. 
2. Identity authorization
To follow the "zero trusts" approach and meet the highest security requirements, data centers need to incorporate an accurate, reliable multi-factor authentication system (MFA). 
Biometric identification has become more prevalent, expanding to wider proliferation as a method of entry. Especially in a pandemic, advanced facial recognition technology provides a touchless solution to control physical access when installed on doors and gates. ACaaS centralizes the management of access control devices. Faces and ID groups can be synchronized to the cloud. It allows security managers to set different user groups and specific access times.
Additional verification mechanisms add next-level security within the data center. Visitors may also be given a password or RFID card on top of biometrics authentication. As a result of implementing multi-factor authentication, the risk of identity theft or fraud can be reduced. Aside from preventing a data breach, enhanced authentication technology helps build up user experience as well.
3. 24x7x365 Video surveillance
Remote video surveillance is essential to nearly every industry, especially data centers. 
Cloud-based video security systems handle every aspect from IP cameras and sensors management to video storage and server maintenance. All footage is digitally stored for future review, increasing the flexibility of security management. 
VSaaS enhances the scalability of simultaneous location monitoring from one portal. This feature allows off-site security managers to remotely survey live videos from multiple angles and control the devices in a different location.
Integrated with temperature scanning technology, video surveillance systems can identify hot/cold spots and issue alerts whenever a temperature event within the server room occurs. 
4. Access tracking automation
Industry institute report found out 30% of data breaches were attributed to internal users.[3] Keeping track of who and when accessed each server rack is necessary for data center security management.
Electronic Access Solutions (EAS) capture "sign" for each access attempt. Real-time alerts will be sent when unusual access attempts are detected. 
Automated with ACaaS, access reports will be auto-generated periodically. Tracking historical access logs became easier and efficient when ACaaS is integrated with VSaaS, security managers can select to watch particular video playback without viewing the whole footage.
Conclusion
After an early analysis of the business implications of the pandemic and its induced economic crisis, a recent industry report indicates the demand for ACaaS is escalating, with an estimation of its global market size to reach US$3 Billion by 2027[4]. On the other hand, the global market for VSaaS is projected to reach a revised size of US$10 Billion by 2027 from US$3 Billion in 2020, and growth in the Managed segment is readjusted to a revised 17.3% CAGR for the next 7-year period.[5] These figures might be further pushed up in the post-pandemic era to show an increasing demand for a higher level of physical security in the markets. 
"By 2025, 85% of infrastructure strategies will integrate on-premises, colocation, cloud, and edge delivery options, compared with 20% in 2020." (Gartner Research Report 2020)
All these illustrate cloud-based security systems are expected to grow in wider applications, including enterprise data centers, clinical research data warehouses, education data centers, and more.
References
[1] Data Center Physical Security - Global Outlook and Forecast 2020-2025, https://www.researchandmarkets.com/reports/5214683/data-center-physical-security-global-outlook 
[2] The impact of COVID-19 on cloud adoption and the implications for the physical security industry, Hosted Security Landscape Report 2020/21, https://morphean.com/whitepaper/White%20Paper%202020_EN.pdf 
[3] What Is Data Center Security? 6 Ways to Ensure Your Interests Are Protected, https://www.thesslstore.com/blog/what-is-data-center-security-6-ways-to-ensure-your-interests-are-protected/ 
[4] Market Impact Survey - Covid-19 & Looming Recession, Global Access Control as a Service (ACaaS) Industry, https://www.reportlinker.com/p03704490/Global-Access-Control-as-a-Service-ACaaS-Industry.html
[5] Video Surveillance As A Service (VSaaS) - Global Market Trajectory & Analytics, https://www.researchandmarkets.com/reports/3440918/video-surveillance-as-a-service-vsaas-global