A Complete Access Control Solution for Enterprises
ScanViS complete access control solution creates safer, more secure spaces. Built to scale for thousands of users across multiple locations, the system is powered by GateGuard Series structured with the leading-edge facial recognition technology, delivering reliable and safe access control solutions to both public and private sectors in the global market. This product series embraces different versions answering requests from light and quick roll out to large scale deployment involving software customization and system integration.  
Many organizations choose to use multi-factor authentication to boost the security of their access control systems. ScanViS complete access control solution can help enterprises design a multi-factor security feature to suit the organization, such as Face + Passcode, Face + Card, or even Face + QR code or more.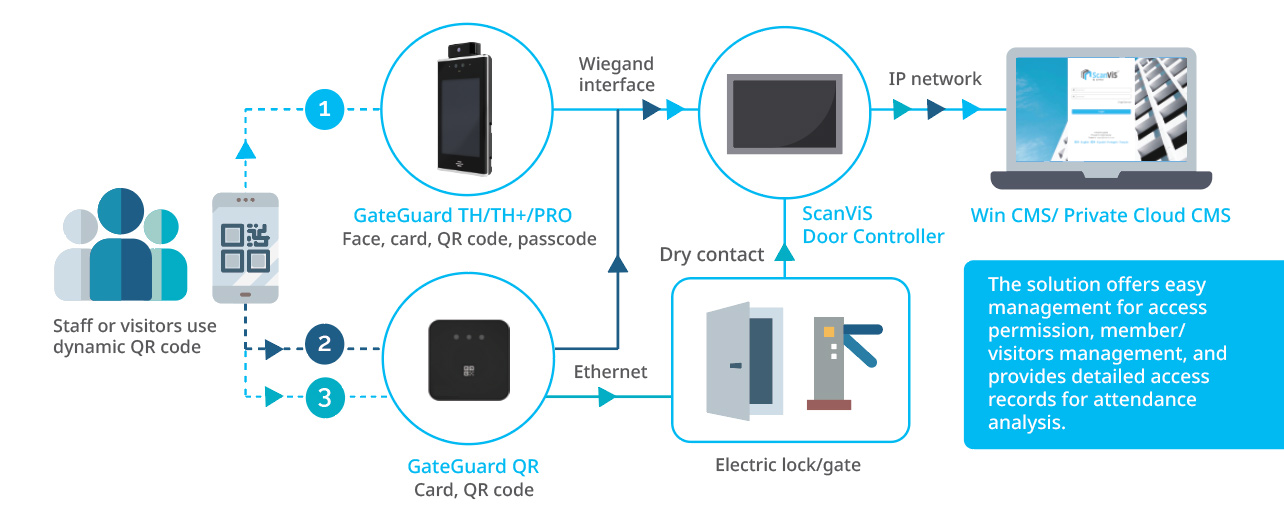 The complete access control solution centralizes attendance, visitor management, and security management with robust cloud-based software and seamless integrations, all managed from a single pane of glass.
This next generation end-to-end access control solution gives enterprises and organizations unprecedented visibility and control over all their locations, enabling them to do more with less investment.
Multi-functional, all-in-one access control solution for enhanced private security 
ScanViS GateGuard PRO is an upgraded access control device with strong components delivering practical and highly flexible functions including effective liveness and mask detection, multi-factor authentication, watch list compilation (white/ black list), door control and alarm setting. Users can manage ID group and entry authorization through a comprehensive user interface. GateGuard PRO offers configurable web services integration, allowing admins to combine access control with HR, service registration, reporting and other systems under a single umbrella. For example, when employed in the intercom system of the company, voice communication will be available between staff and visitors via the device. The integration of devices across multiple functions and platforms gives security and facility managers much more control over their premises. With real-time push alert, office admins or security personnel will be notified of unauthorized visitor or identity fraud on the mobile APP.  
Accommodating 50,000 face databases, the device with a touch screen can identify user's face within 2 meters in less than 1 second. It can also personalize greeting message on the display screen when the registered visitor is authorized to entry. This function gives a good visitor experience when a VIP checks in the company or a building.


Easy Installation
Wall mount device controlling door access at office entrance.
Pole mount device for gate integration at the building lobby.