Creating a comfortable and safe urban environment is of utmost importance. ScanViS Face Search Security Series  detects faces in a video on the fly, identifies them against faces in watch lists, and sends notifications when a match is found. It ensures the city safety, assisting law enforcement agencies in identifying offenders, locating criminals at large, and spotting missing people. 
Enterprise-grade facial recognition server for corporate security in premises
AIEng is a facial recognition server that detects individual faces, extracts attributes, and matches the face with a database of 1 million faces. It delivers ID management, blacklist alerts, multi-channel facial image analysis, device management, and remote upgrade. The server supports up to 8 IP cameras which each of them can capture up to 20 faces in one scene. 
Powered by the world-leading algorithm, AIEng gives full face recognition regardless of makeup, beard, hats, and the like, ensuring high level of accuracy. With built-in security system, this facial recognition server enables data management at anywhere, and allow customization to fit the applications and scenarios in an optimal way. 
Featuring alert window to trigger alarm system, AIEng also performs real time access logs monitoring via web GUI, resulting better security and enhanced staff performance of admin or security personnel.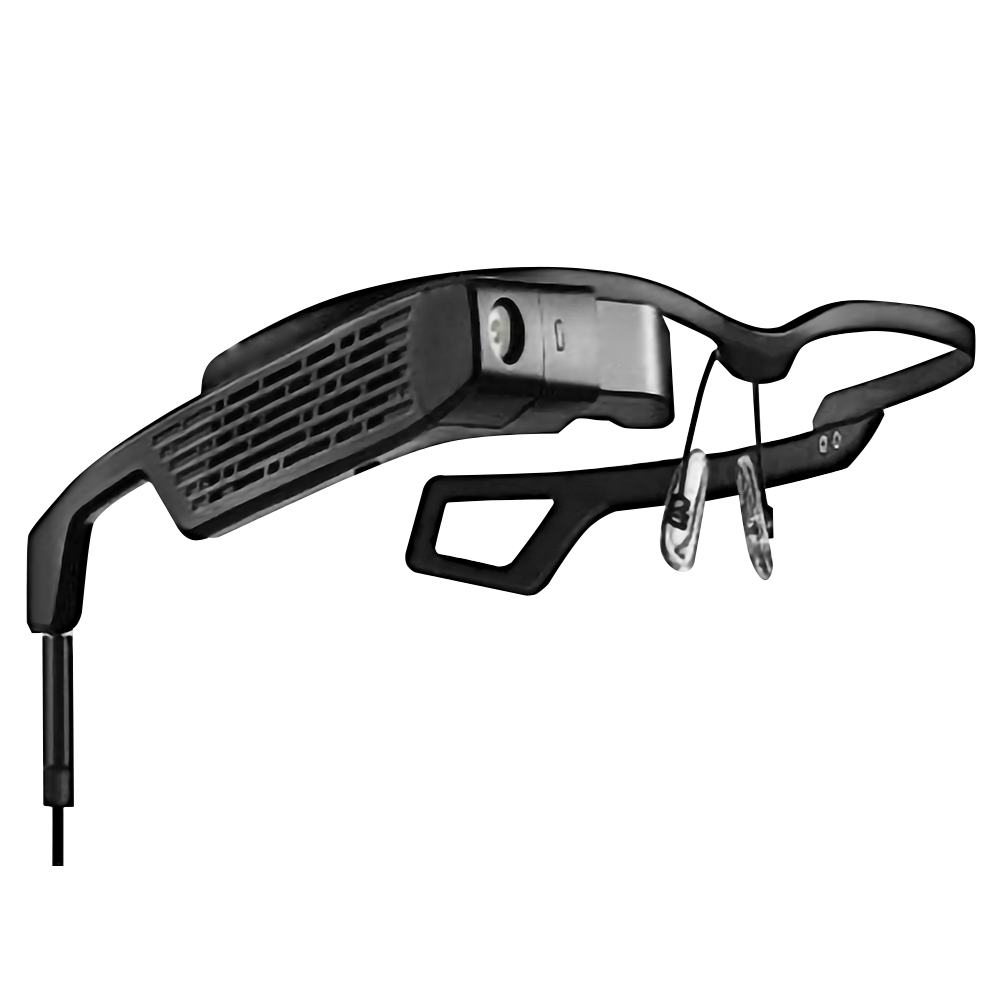 High efficiency, intelligent glasses for surveillance and security
Smart Glasses is a highly flexible security solution with three significant functions including face search, giving command and data distribution. It is structured with screen display, camera, anti-noise microphone and speaker, ensuring compatibility and efficient communication with other devices to deliver high-performance surveillance functions.
This light weighted wearable computer glasses feature sound and light alarm when person of interest is identified. Zooming function allows the efficiency of on-site face search, and related face data will show on the built-in screen display. This tool can operate offline with mobile phone and Face-in-one, holding a capacity from 10,000 to 1 billion faces of database. When it works online with the third party face platform, there is no limit for face database.
Given its long recognition distance up to 4 meters, the intelligent glasses is able to capture up to 5 faces in a single scene. There are also flexible software options for mobile phone, PC web, and backend server to run with Smart Glasses on recognition record management and data analysis.
This tool is an efficient and flexible surveillance solution for police and security personnel.

Robust, full recognition mobile workstation for perimeter security or public events
FacePack is a high capacity face search workstation for both indoor or outdoor security. It finds face matches in a database of 100 million faces in full recognition regardless of makeup, beard, hats, glasses, at the same time, it performs dynamic surveillance from a watch list of half million facial images.
On top of its portability for a wide range of scenarios, it is compatible with multiple devices including face-capturing cameras and bodycams, as well as allowing alarm setting with black list compilation. This platform enables different user authorization levels for system admin, security personnel, or department admin.
This face search platform is a, efficient, reliable solution to law enforcement bodies, security agents who look for quick and easy deployment with minimal hardware requirement in any public environments.

Gigantic, smart security solution for city safety
Face-in-one is a face-based smart security management platform with powerful facial recognition algorithm to deliver accurate and fast face searching on wanted individuals for public safety concern. It operates without profiling by race or country of origin, and is scalable from city to country level.
Not only this robust platform runs static face image comparison against one billion face databases in seconds for each, but also archives hundred million facial images of passers-by every day.
Flexible enough the computing architecture of the system can support cross-platform portrait sharing and refined authorization level of admin users for access rights and operation permissions.
This is a high performance face search solution to law enforcement government bodies applying in transportation hub, border protection, critical infrastructure, etc.

Applications
Real-time security
Crime prevention