ScanViS Thermal Detection Series stands with everyone to keep the community safe from invisible threats. It provides contactless, speedy, cost effective and accurate means for body temperature screening in anytime and anywhere such as school, commercial building and construction site entrance to secure public health.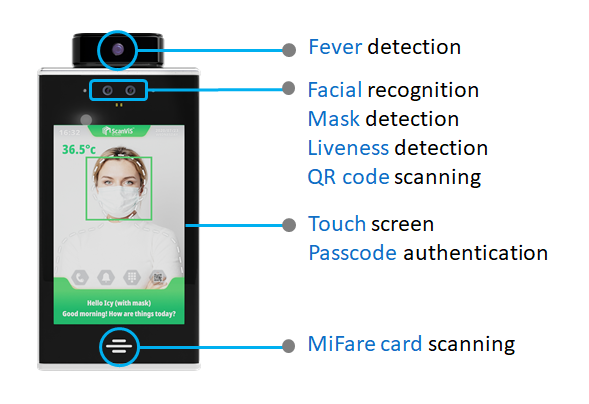 Automated access control system with fever and mask detections
To address the market needs of increasing use of thermal detection to ensure health safety in workplace and public areas, ScanViS provides a flexible access control solution with thermal detection for enterprises and organizations.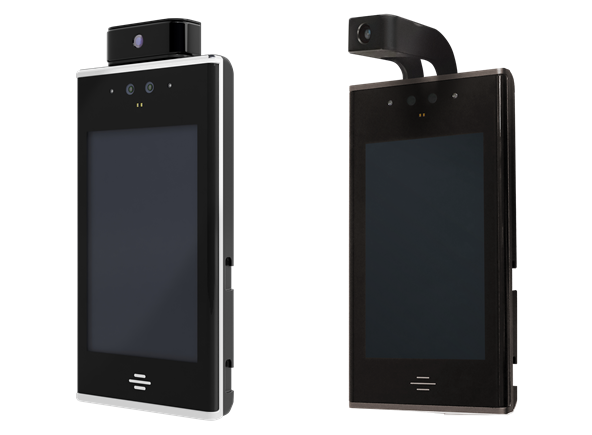 GateGuard TH+ and GateGuard TH (thermal) both combines facial recognition and fever detection functions in a standalone device. Engineered with state-of-the-art sensor technology, its temperature detection distance is up to 2 meters, which provides safe screening to staff and visitors before entering the premises or venues. If abnormal temperature is detected, the system sets off an alarm, or denies access when employing in the GateGuard automated access control system.
For ID verification, both devices offer multi-factor authentication methods including face, QR code, MiFare card, and passcode, allowing enterprise and organization to assign different authentication protocols to different staff levels. While liveness detection offers to prevent fraud identity and additional dry contact is housed to enable more door or access control, all these features strengthen private security in the premises.
The flexible and user-friendly Central Management System (Win CMS or Cloud CMS) platform is designed to enable administrators to manage ID group and schedule setting, as well as generate graphical reports of access logs and temperatures records for better monitoring. It significantly enhances operation efficiency of both administration and security personnel, saving their time to improve productivity.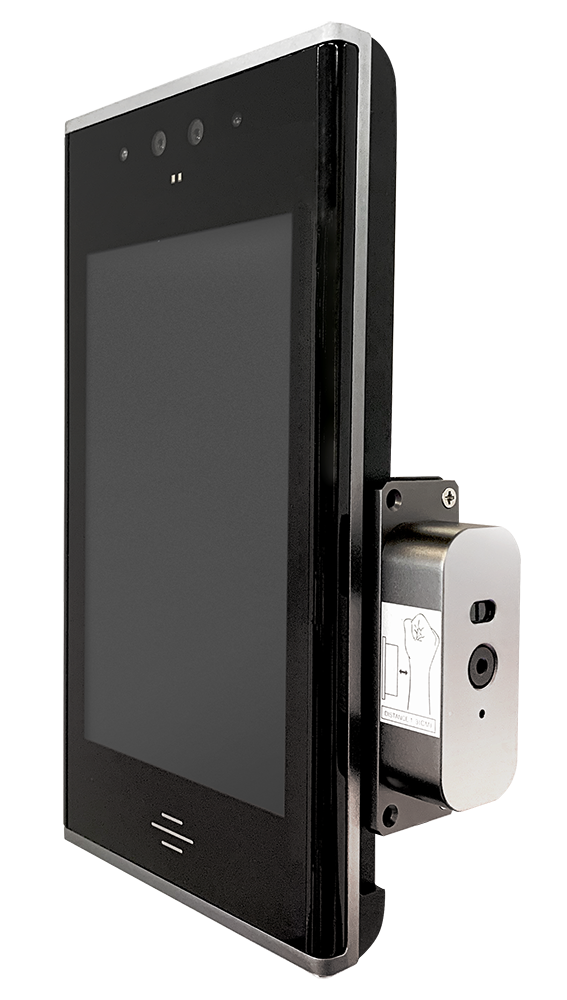 Automated access control system with fever detection
GateGuard PRO becomes a member of the Thermal Detection Series when installed with wrist temperature detector (WTD) to scan body temperature on wrist, palm and forehead by 500 milliseconds only. It is structured with high performance temperature sensor. The device operates in wide temperature range from 5ºC to 40ºC, yet keeping temperature accuracy of ≤0.2ºC to give precise measurement results. 
The wrist temperature detector is highly adaptable which provides an open interface of USB 2.0 to connect with other devices, enabling body temperature screening function and record sharing.   
Other than the fever detection function, GateGuard PRO is a powerful access control system with multi-factor authentication function, mask and liveness detections.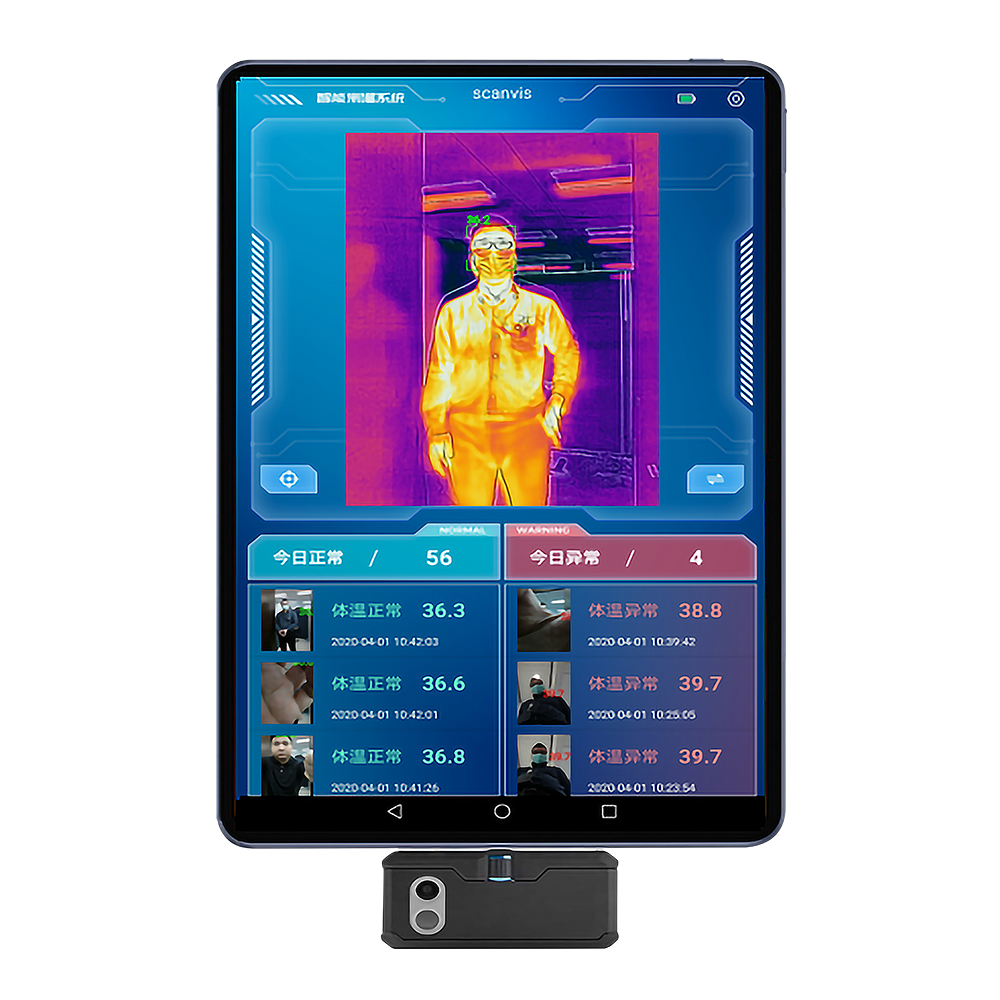 Thermal detection pad for both office and retail environments
ScanViS Thermal Detecting System is a small, light pad integrated with visible light and infrared thermal imaging technology. It adapts the most advanced automatic temperature correction algorithm and the latest AI face detection algorithm to accurately measure the face temperature of visitors in real-time. When an elevated body temperature is detected, the system will automatically report to staff for re-inspection. It can work properly even the visitor is wearing a surgical mask.
Given the contactless temperature detection distance is up to 2 meters, the system is able to detect multiple faces simultaneously which significantly increases the traffic efficiency by reducing queuing time.
Structured with internal battery, the thermal detection pad enables temporary setup in location without power supply. It can also work on a single machine or connect to a back-end cloud platform to achieve multi-point deployment and control, data traceability, big data analysis, visual data presentation, and cross-platform docking management.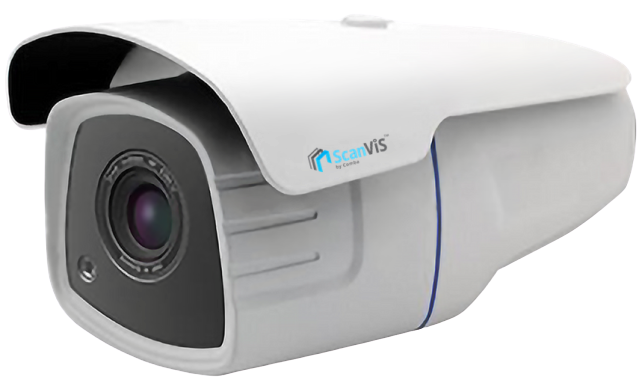 Dual sensor thermal imaging system for mass blind fever screening
The system featuring bi-spectrum dual channel (infra-red + visible light) camera uses a non-refrigerated core and low signal-noise image processing technology to perform high-speed fever screening in authorities and businesses. Visible light is all that is required to capture the human face, allowing the thermal imaging to monitor body temperature in a variety of conditions (emissivity, distance, ambient temperature, etc.).
Using advanced facial recognition algorithm for face tracking, the system focuses on face temperature detection to ensure accurate measurements. Using facial recognition also minimizes false readings, such as a person carrying a hot drink. Deploying with a dedicated software platform, alarm function can be set to notify abnormal temperature. 
It can accurately detect facial temperatures of multiple people at once, with an accuracy of ≤0.3ºC. Temperature detection range can be set with the optimal detection distance up to 3 meters. It is an ideal solution for monitoring body temperatures at entrances to events, transport hubs and buildings. 


Easy Installation
Minimal hardware equipment
Central management platform to control device and data
High adaptability
Applications
Safe screening
Mass blind fever screening