Surveillance video cameras have been widely established in both public and private venues for the purpose of security monitoring, access control, finding missing persons and the like. ScanViS Video Surveillance Solutions comprises Intelligent Series, Smart PTZ Series, Thermal Detection Series, Essential Series, Network Video Recorder, and Video Management System. They can work with our facial recognition solutions for different applications, such as Event Solution, Retail Solution, and Public Security Solution. 
Both Intelligent Series and Smart PTZ Series consists of several modules. The most important and computationally intensive is the stream analyzer, which performs human detection and tracking as well as face detection and characteristics calculation. The innovative models (trained with machine learning) for detection and characteristics calculations efficiently handle different face orientations. The models also have good resistance on occlusions and visual biasing such as facial hair styles, and are relatively rigid on sunglasses and haircuts.
Intelligent Series
This series offers face detection with deep learning algorithms that gives accurate and quick face search functions for surveillance. It provides excellent HDTV image quality regardless of lighting conditions and the size and characteristics of the monitored areas. It is an ideal solution for complete situational awareness with minimal equipment.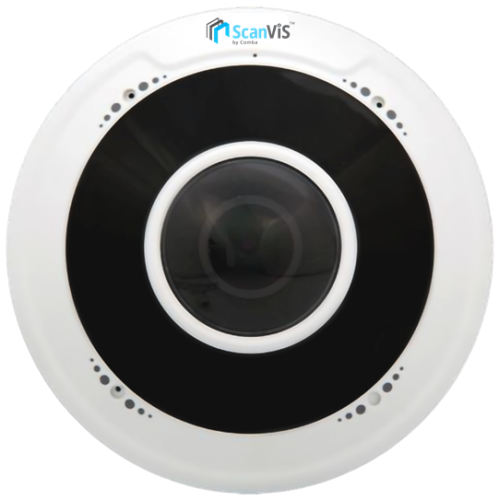 IS 5MP Dome Network Camera
Smart PTZ Series

Coupled with deep learning algorithms for video content analysis, ScanViS Smart PTZ Series is packed with IR night vision, pan-tilt-zoom features and motion detection. The PTZ dome cameras are bestowed with ultra wide angle cameras which maximize areas of scouting and expand the field of view significantly to 360-degree. It further enhances the performance of face acquisition, tracking & recognition. 
PTZ cameras are important for procurement of sharp images or videos that have the necessary clarity for recognizing people's faces, identify either vehicles or trespassers and even catch criminals during the act.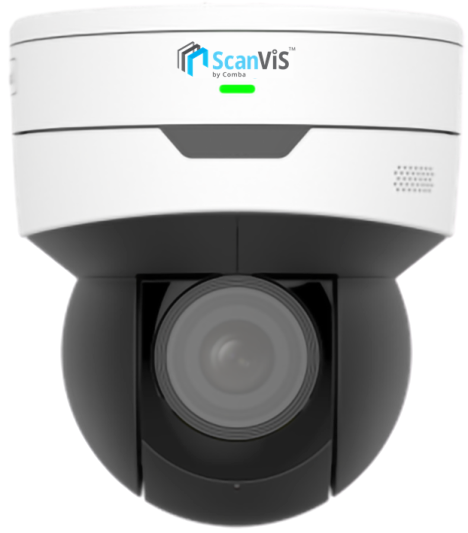 Essential Series

This series entails network and cable-free cameras with IR distance up to 50 meters. Both fixed dome cameras and fixed bullet cameras run with high resolution video quality covering every kind of environment, day and night.
The solution is not limited to security measures – it's a multi-functional tool that can be used in any number of situations and processes, for example, monitoring everything from vital systems such as electrical grids to assembly plants, to plumbing to energy management.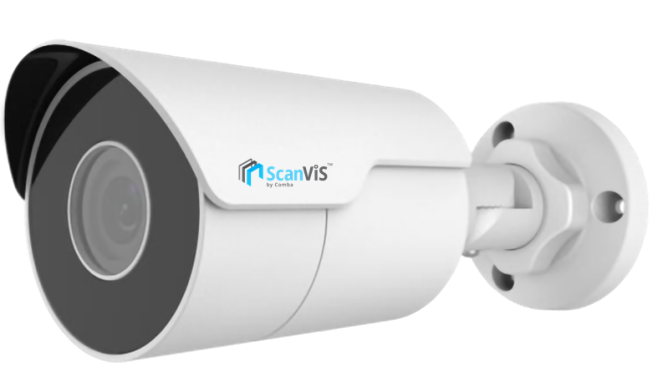 ES 2MP Bullet Network Camera
Thermal Detection Series

The system featuring bi-spectrum dual channel (infra light + visible light) camera uses a non-refrigerated core and low signal-noise image processing technology to perform high-speed fever screening in authorities and businesses. Visible light is all that is required to capture the human face, allowing the thermal imaging to monitor body temperature in a variety of conditions (emissivity, distance, ambient temperature, etc.).
It can accurately detect facial temperatures of multiple people at once, with an accuracy of ≤0.3ºC. Temperature detection range can be set with the optimal detection distance up to 3 meters. It is an ideal solution for monitoring body temperatures at entrances to events, transport hubs and buildings.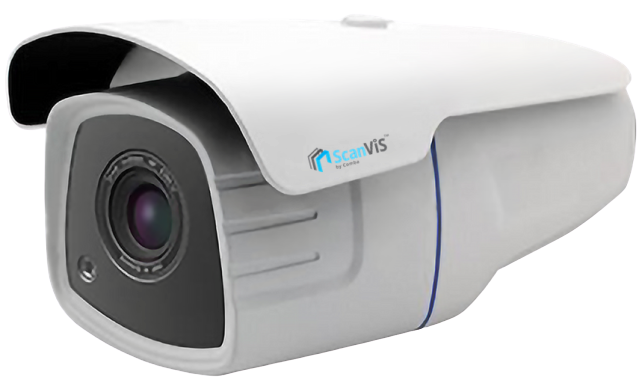 Dual Sensor Thermal Imaging System
Network Video Recorder

ScanViS network video recorder accommodates up to 50,000 face images in the face library and supports 4 channels of face capture camera. The recorder can work with 3rd party IP cameras supported with ONVIF conformance, and its ANR (Automatic Network Replenishment) technology is able to enhance storage reliability when the network is down.

  Network Video Recorder
Video Management System
ScanViS video management system is to centralize management for ScanViS IP cameras, NVRs, hybrid NVRs, network keyboards, decoding devices, and the like. It accommodates up to 512 local channels and 512 cloud channels, as well as editing and sharing of cloud devices. Multiple alarm types including device alarms and VCA alarms are available.
Video surveillance system not only can deter criminals and help law enforcement quickly catch any would-be thieves, but can also improve the accountability of employees, help monitor productivity and sometimes even reduce insurance premiums. 
More camera models are available for selection from our brochure.