5 Things to Consider Before Getting an Access Control Solution
Access control systems are built to ensure physical security. Selecting the right access control system not only can streamline manual efforts and eliminate human errors, but also can optimize workforce productivity for advanced internal and external services in an enterprise or organization.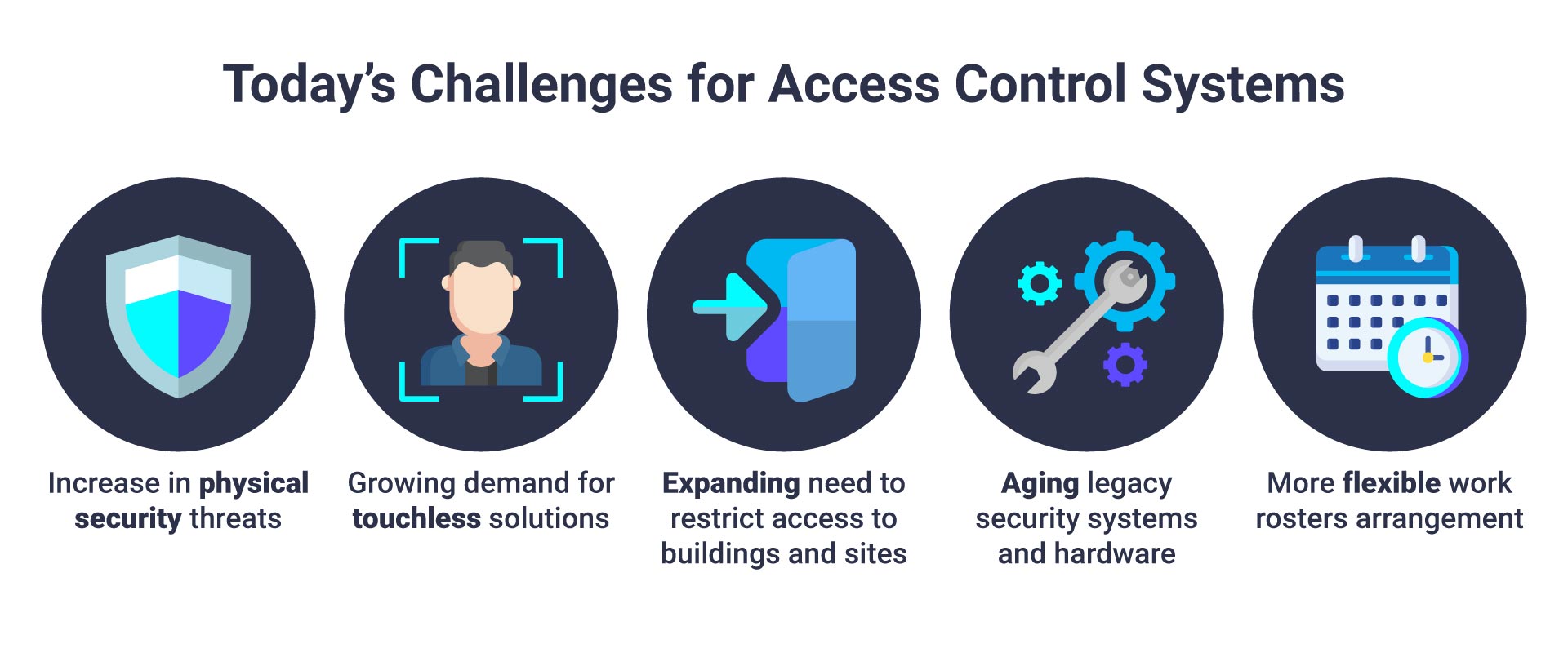 Before investing in a new access control solution, here are the five things you need to consider.
Frequently Asked Questions
First, determine the purpose and business needs for access control.  The most basic system is designed to restrict limited access to certain areas. You also want to consider the need of tracking who comes in and out of your location.
Figure out any weaknesses in your physical security system and operational inefficiencies you need to solve.
Access control needs include:
Prevent unauthorized access
Safeguard assets against theft
Crowd management (with social distancing)
Multi-factor authentication
Faster check-in and out
Customize user groups
Create access logs
Faster emergency response
Integrate with the security system
2. 

What scale do you want your access control system to be?

When budgeting for short-term and long-term uses, you need to consider the number of access points you need to secure. Also, how many user and access levels are involved?  

Security needs will change over time, you may need to add new users and additional entry points in the foreseeable future. Adopting a scalable access control solution is a straightforward and cost-effective way for security management.

 
3. Do you need integration to other systems?
More organizations are opting for an all-in-one access control solution that offers the ability to integrate with other enterprise systems. Common integrations include video surveillance, attendance tracking, payroll automation, alarm systems, etc. With pressing concern over hygiene after COVID-19, some system providers offer touchless access control solutions with a fever scanning function.
Take a look at the system capabilities and API. Access control systems that offer plug-in integration allow you to seamlessly combine different systems into a single management platform, reducing inefficiencies and costs involved in separate systems.
4. How to decide between on-premise or cloud-based security?
To find the ideal access control solution that suits your business needs, make a list of necessary features and integrations required for short-term and long-term uses. Here are some supplementary points for your reference.
|   | On-premise Access Control | Cloud-based Access Control |
| --- | --- | --- |
| Pricing | Licensing-based pricing | Subscription-based pricing |
| Cost | High upfront cost (e.g. hardware) (US$50K-100K for medium-sized system controlling 5 access points) | Predictable over time (starting from US$30/month) |
| Data accessibility | On-premise | Anywhere, anytime |
| System automation | Less automated | Highly automated |
| Software update | Can result in hassles | Stable and continuous |
| System performance | Performance affected during any software/hardware updates or changes | Being monitored and upgraded to deliver maximum performance |
| Scalability | Limited | Flexible and scalable |
| Roll-out time | Longer | Shorter |
5. 

Is the system easy to use by administrators and employees?
An ideal access control system can enhance security and operation efficiency at the same time. 
From an operation perspective, make sure the system can configure easily. A user-friendly system substantially increases administrators' productivity with minimal training and facilitates implementation.
From an employee's perspective, an effective system allows quick and easy entry that can enhance user experience. 
Our team can help you come to the right decision regarding the access system which is right for your needs. Contact us.
Continue reading:
ScanViS Access Control Solution: GateGuard FAQs
Returning to Normal with Accurate Fever Detection
Introduction to biometric access control – More than controlling a door