Introduction to biometric access control – More than controlling a door
The advantages of biometric access control are pushing the technology forward swiftly, with pressing concern over hygiene after COVID-19. How does biometric access control work? Is the solution scalable for enterprises? Here are some points explaining why it becomes the trend in more and more industries.
Biometric access control is a technology that gathers a specific type of biometric data such as face, fingerprint, veins from a person to control security entry.
2. Why biometric access control?
Biometrics security enables a touch-free check-in experience, especially with facial recognition technology. By reducing the surface touchpoints of doors and entrances, the use of a contactless entry system could address the emerging COVID-19 safety and health concerns.
Adding biometrics as a layer of multi-factor authentication (MFA) not only results in stronger security to prevent identity frauds but also mitigates the risk of disease transmission through unnecessary touchpoints.
Key benefits of using biometrics access control:
3. How are the entrances controlled?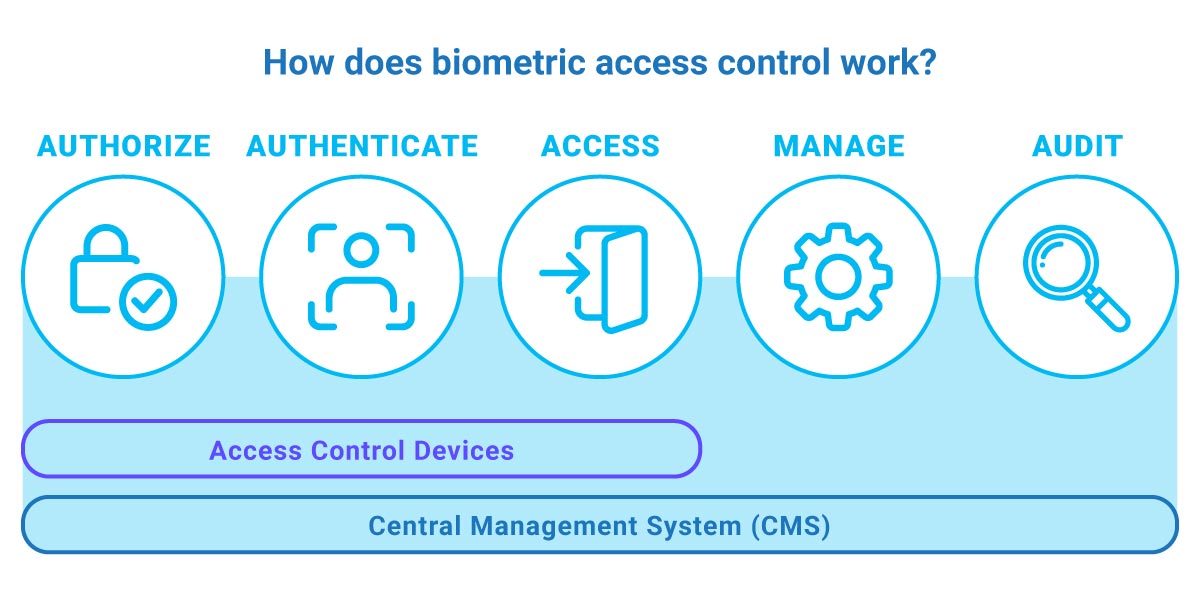 By defining who has access to which entrance(s), the first step is to authorize user groups. Role-based access control (RBAC) can be deployed for different levels of physical access.
With access control devices installed at entry points, users will check in by presenting credentials or biometric characteristics. The device will validate the user's identity and trigger access to authorized personnel.
After authentication, the specific entrance will be unlocked to the authorized user. All access logs will be stored in the access control system.
Next, security personnel can manage the access control with the central management system (CMS). The CMS can manage a variety of functions including add/remove ID groups, set access criteria, control access time, generate access log reports, real-time alerts, and more.
Organizations can perform regular audits to keep track of all access events. Analyzing physical access control data is useful for businesses to meet security requirements..
4. What else can an access control system do apart from control a door?
Access control systems are versatile which allow flexibility to integrate with hardware and software. Entry points are not limited to doors, access control devices can integrate to gates, elevators, event sign-in systems, and more.
By combining an access control system with temperature detection function, fever screening can be performed on visitors before entering the premises or venues. Besides, access control systems can also allow automated attendance tracking, facilitating payroll arrangement when employing with the HR systems. There are many possibilities with the modern access control systems, giving more cost-effective solutions to small to large deployments. Nowadays, enterprises have many options to upgrade their access control system with ease.
Continue reading: