ScanViS Access Control Solution: GateGuard FAQs
Frequently Asked Questions
Frequently Asked Questions
ScanViS GateGuard series is a face-based authentication access control system. Installed at entry points, GateGuard recognizes face within 2 meters to verify the user's identity. Multi-factor authentication is also available with GateGuard, offering options of face, QR code, pin, and tap cards.
Connected with central management system and door controller, authorized personnel will gain access to the facility. The solution operates with a cloud computing platform to run ID management and perform real-time access monitoring.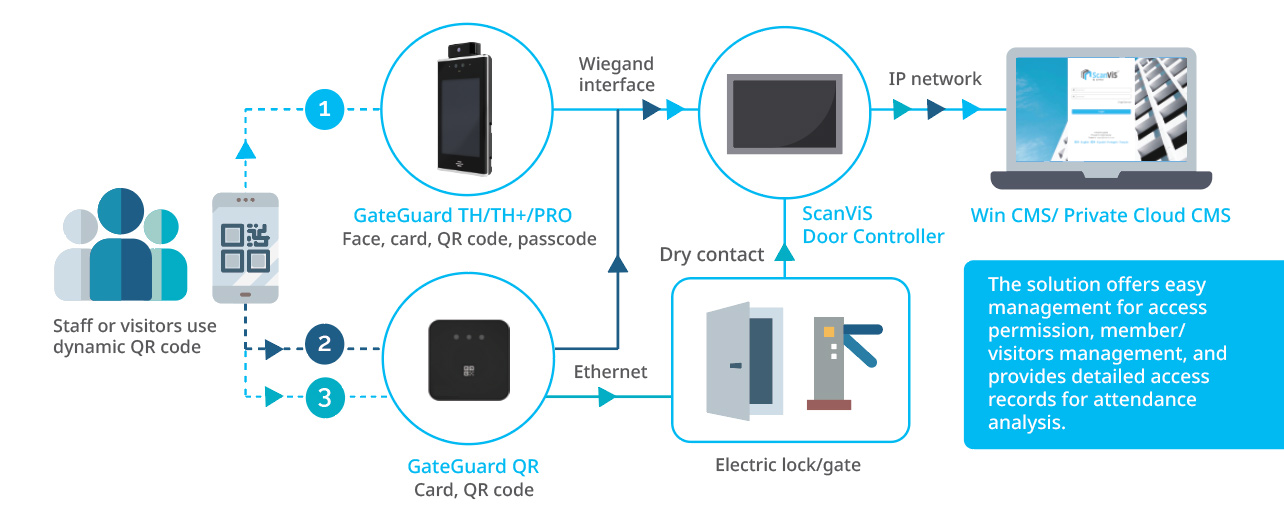 2. Does GateGuard work with different types of doors?
ScanViS GateGuard can be installed at a variety of access points. Forms of entry include gates, glass doors, turnstiles, elevators, car parks, electric locks, server racks/cabinets, and more. It can be widely applied in multiple scenarios including enterprises, schools, retail, healthcare, data centers, etc.
GateGuard TH can be deployed as a standalone device mounted on a pole for contactless fever screening and visitor check-in at facilities or events.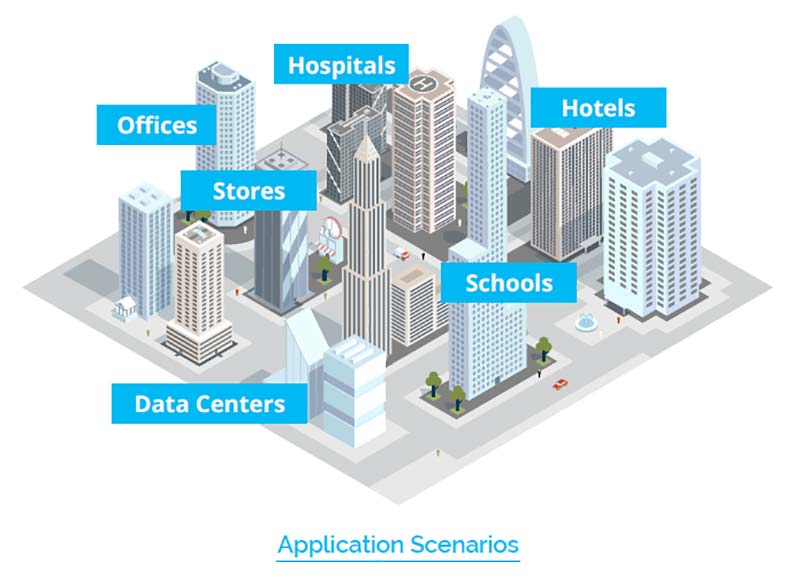 3. Can users pre-register facial data with a photo?
GateGuard offers two methods of user registration/ face enrollment.
▪ Pre-register with a photo
By uploading a photo and personal information to the management system, the user's profile will be created. A pre-registered user can come to the onsite check-in counter and verify the identity with his or her face.
▪ Register by taking a photo on GateGuard
ScanViS GateGuard can detect face within 0.3 seconds. After face scanning, users can add their personal information via the device's user-friendly interface.
4. Can administrators customize different user groups and rosters?
Yes. Role-based access control is configurable with GateGuard. Administrators can create and assign access levels to user groups. By modifying user rosters, the access control system can be customized to address different customer needs. 
5. Can users create a regular access log report?
Yes. Access log reports can be auto-generated to pdf and excel files at regular intervals. Security personnel can run detailed reports of access logs, filtering and sorting for patterns in visit type and timing for a better access control plan.
6. Can GateGuard integrate with other systems?
Yes. GateGuard provides configurable integrations to combine access control with systems such as attendance tracking, payroll automation, video management, alarm control, event registration, and other applications.
7. What if I have an existing access control system?
GateGuard supports standard Wiegand interface and dry contact output.
If the existing door controller is based on the Wiegand interface, GateGuard can integrate with the current system.
If the existing access control devices (e.g. card reader) are connected with the electric door lock with dry contact, GateGuard can connect with the card reader or exit button with its dry contact output at the same time.
Alternatively, GateGuard Restful API can be adopted to manage access control with the existing management system.
8. Where will the facial data be stored? Will it be sold to third parties?
All facial data is solely stored in the customer's server, encrypted interfaces will ensure data transmission security.
ScanViS is committed to reinforcing our data protection capabilities. All customer data will not be sold to third parties or use for system training.
For more questions, contact us.
Continue reading:
Returning to Normal with Accurate Fever Detection
Introduction to biometric access control – More than controlling a door